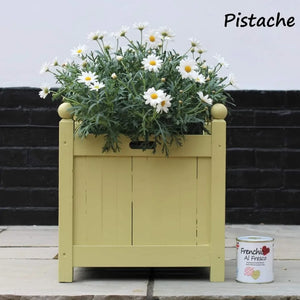 We have gone completely nuts for this curiously unconventional green. Mid-toned, brimming with cheery yellow hints and oozing with character, it is surprisingly versatile both indoors and out.
Please note that this is a Limited Edition colour so you won't find it on our Colour Chart. Catch it while you can!
Perfect for updating your kitchen, bathroom, front door or just about anywhere! Weatherproof Al Fresco is a water based, eco-friendly chalk and mineral furniture paint with a low, almost flat finish. Requiring simple prep, it is self-priming, self-sealing and suitable for wood, laminate, UPVC/composites and metal both indoors and out. Having minimal VOC content and UKCA and EN71-3 compliance, it is safe for use on children's toys.