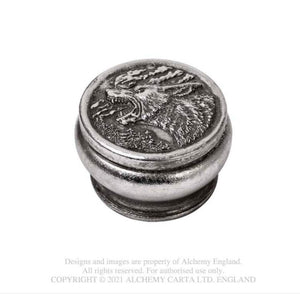 Enchanted by the beckoning tide of midnight. A true child of the moon, calling out across the limitless wilderness.
It is said that a werewolf wishing to return to his true form must first hide a precious keepsake within a secret casket, else forever wander the forests of the night.
A howling wolf keeping predators at bay, your secrets are safe in this beautiful trinket/keepsake box.
Hand finished antique silver, high quality poly resin with wolf detail.
Weight & Dimensions (approx.):H: 8.5cm (3.35") W: 8.5cm (3.35") D: 5.5cm (2.17")
Fastening & Packaging:
Packaged in a Alchemy branded gift box with product label.